Hot Springs, NC is the home of 600 or so permanent residents, breathtaking mountain scenery, hot mineral springs, multigenerational family shops, up and coming businesses, and a revolving cast of thousands of hikers, bikers, diners, and river enthusiasts that daily swarm this rugged, unique spot to partake of its natural beauty. This walking tour of Hot Springs, NC shows most of what we have to offer curious travelers.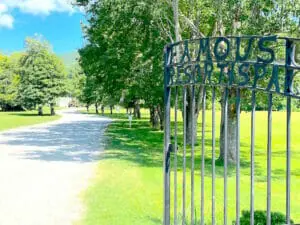 Visit the Hot Springs Resort & Spa
As you drive into town on 25/70 from Asheville, we invite you to drive through the wrought iron fence to have a look at the Hot Springs Resort & Spa, where you can spend an hour soaking in therapeutic thermal baths. Call ahead to make an appointment.
A North Carolina Town on the Appalachian Trail
The spa waters are the second thing that distinguishes Hot Springs from other Western North Carolina mountain towns. The first thing is the Appalachian Trail. This roughly 2,200 mile hiking adventure connects Georgia to Maine, takes months to complete, and dissects the town. Yearly a critical mass of "thru-hikers" descends on the town. As such, a lot of the activity in Hot Springs caters to hikers, rafters, and other outdoor enthusiasts.
However, the oasis of coolness that is Hot Springs has so much more to offer, as we will show in this virtual walking tour of Hot Springs.
Parking
After visiting the Spa and driving across the railroad tracks, you can turn right on Andrews Ave. to find parking, either at the Town of Hot Springs Public Parking or along the street.
Red Bridge
From the public parking lot, if you turn to the left, you will eventually end up at the Red Bridge. This lovely spot overlooking Spring Creek was once a main thoroughfare connecting the residential and business sections of town. Now it serves as a walking path and a place to enjoy the sight of fishing enthusiasts trying their luck.
Big Pillow Brewing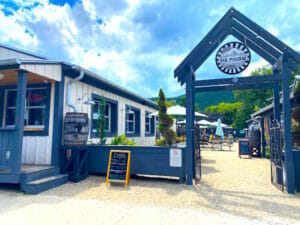 If you instead turn to the right, you get to our first official stop on the Great Tour of Hot Springs, Big Pillow Brewing. Start your tour of all Hot Springs has to offer in style by downing a pint at our very own microbrewery, with food provided by Grey Eagle Taqueria. Depending on the time of day you go, you can also catch a show, open mic session, or karaoke.
Outdoor Arts Market
As you get ready to cross Bridge Street you may see to your right a collection of EZ Up tents shielding jewelers, woodworkers, farmers, and vendors of wondrous things from the hot summer sun. One of two semi-official, semi-permanent art markets found in this town, this art market springs up almost every weekend during the warm season in the vacant parking lot across from Town Hall.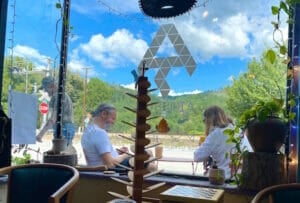 Artisun Gallery
Continue across the street to Hot Springs' signature coffee shop, Artisun Gallery and Cafe. Come in for your favorite espresso beverage or ice cream cone, and stay for the deliciously inventive locally sourced bakery items, the eclectic ambiance, and the dizzying array of artifacts, souvenirs, jewelry, and original art that cover every possible surface.
Iron Horse Station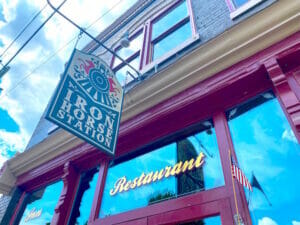 After exiting Artisun, if you head to the right, you arrive at the Iron Horse Station restaurant. Named for the proximity to the railroad tracks across the parking lot, this Hot Springs staple offers an extensive menu centered around Southern comfort cuisine. This restaurant also offers a guest lounge with a fireplace, large screen TV and Wireless Internet. The Iron Horse Station also has a hotel, in case you are already tired and want to check out of the tour early.
To get back on track, you turn left and pass Artisun again, which offers you another chance to get one more caffeine hit before turning left to get to know the rest of our town. After ordering an Appalachian Fog IPA at the Pillow, a double scoop of Ultimate Chai Ice Cream at Artisun, and a Shrimp Po Boy and fried Mozzarella at the Iron Horse, you may require an extra shot of espresso to make it through the tour.
Mountain Home Properties and Hot Springs Public Library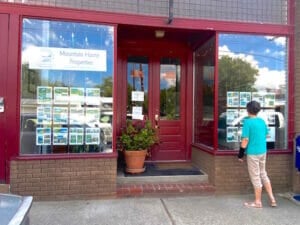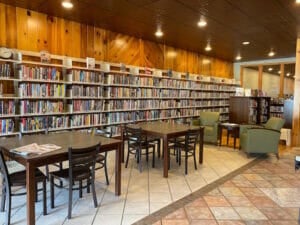 After turning left on Bridge Street, the first storefront you pass is Mountain Home Properties, a good resource for learning about available real estate deals in the area. You can join the ranks of the many who stop by the storefront to contemplate the MLS listings and dream of buying into the town. The very next storefront, the Hot Springs Public Library, affords more chances to learn about our area, provides computers, internet access, and, of course, books.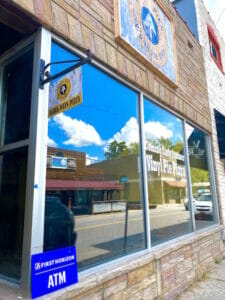 Vinyl Pies Pizza
Shortly after that, you will encounter the newest addition to the Hot Springs business community, Vinyl Pies Pizza. Enjoy one of their 'Greatest Hits' pizzas, such as Good Vibration, Buffalo Soldier, or Start Me Up, in 2 album sizes. The owners have stenciled their favorite music quotes on the walls and added a dazzling pizza oven, aptly labelled 'She's a Brick House'. This charmingly renovated space was once our local bank.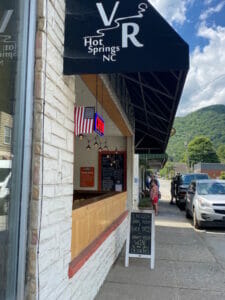 Vaste Riviere Provisions
Vaste Riviere Provisions is next. The V.R., as the locals call it, is a gourmet grocery and deli that also offers a great selection of wines and beers. The delicious, bold menu is made in-house, and the grocery offers imported goods and other upscale items. So if you are in need of Arroyabe wild caught anchovies from Spain, you have come to the right place. The V.R. deck also offers a great perch from which to sip a beer and view the town.
Bluff Mountain Outfitters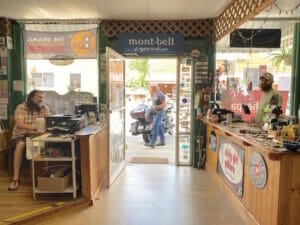 Bluff Mountain Outfitters follows right after. Another Hot Springs institution, Bluff is every AT thru hiker's go-to place for outdoor gear, kooky souvenirs, camping supplies, and other provisions. The fun, knowledgeable staff can guide you to the best footwear, food staples, and camping gear to plan your ideal AT hiking experience. Bluff also displays a topographical map of the region on the wall.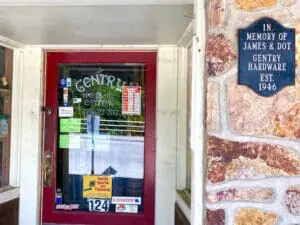 Gentry Hardware
Gentry Hardware is next, after crossing Spring Creek bridge. This hardware store was established in 1946 and is run by the same family today. Anybody who wishes to witness the kind of mom and pop shop ubiquitous in small towns in America 50 years ago or more will really enjoy this shop. As well, Gentry's would be a good next stop if you managed to secure property after your recent visit to Mountain Home Properties and were casting about for renovating the deck or stocking the kitchen – a wide diversity of hardware, household goods, and construction supplies will sort you right out.
Hot Springs Welcome Center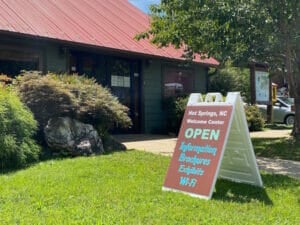 Your next stop down Bridge Street is the Hot Springs Welcome Center. Here you can find information on amenities, lodging, and tourist attractions in Madison County. Maps and helpful staff can direct you to such commonly sought attractions as Lover's Leap or Max Patch. For those of a literary bent, feel free to partake of one of the many books in the Little Free Library built by the Hot Springs 4-H Club.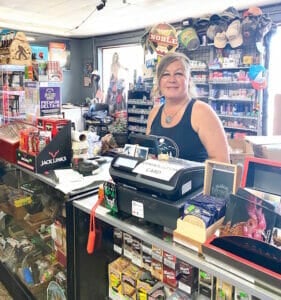 Tobacco Road Burley & Brew
Further along Bridge Street you will pass by the Alpine Court Motel, and then arrive at Tobacco Road Burley and Brew, your one-stop-shop for anything legal you might desire to smoke or drink. An epic collection of fancy wines, diverse beers, and cigars make this an excellent location from which to begin one's road to a fun campfire evening on any random Hot Springs night. Tobacco Road is also a locals hangout. Stay for a fun glimpse of the daily lives of local residents.
Sara Jo's Station, Smokey Mountain Diner, and Hillbilly Market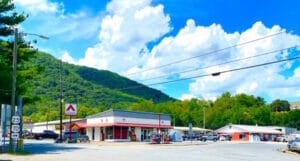 The intersection where 25/70 branches towards Hwy 209 (which takes you to the Bluff community and Spring Creek) and then meanders towards Newport TN offers three points of interest to Hot Springs visitors.
The hub of all this activity is Sara Jo's. This gas station is also a community gathering point. Fuel for the body – in the form of delicious, locally sourced baked goods, snacks, adult beverages – as well as fuel for your car are available here. Another Little Free Library near the front door allows you to trade in the book you found at the Welcome Center's Little Free Library for one you may enjoy better.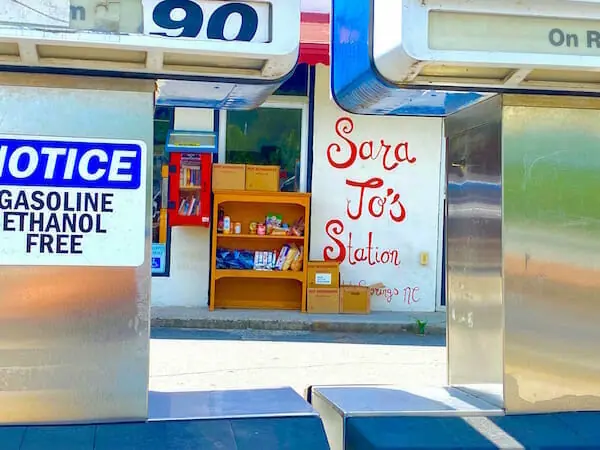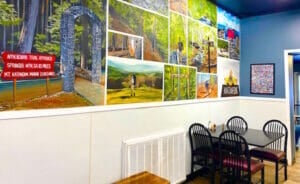 If you are ready to eat again so soon after tacos at the Pillow, vegan/gluten free vanilla buttercream cake at Artisun, Bourbon Glazed Salmon at Iron Horse, Flatbread with Soppresatta and a glass of Chianti at the V.R., and homemade sourdough bread at Sara Jo's, a brief walk past Sara Jo's and Dollar General will deliver you to the Smokey Mountain Diner. The diner has been serving up excellent fare since long before many of the establishments we have explored up to now, and you can round out your culinary experience with fried okra, bacon, sausage, and eggs.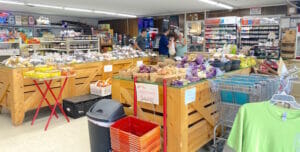 Walk back up to Sara Jo's and hang left if you want to visit the Hillbilly Market, a deli, grocery store, and one of the only places in town you can buy produce. A good selection of dry goods, canned goods, beverages, and well-priced but tasty sandwiches make this place worth visiting.
Gallery339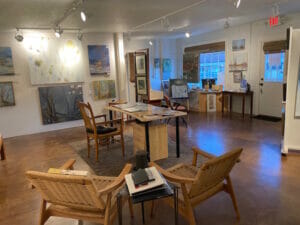 If you keep going up 25/70, meandering up the hill, you would be taking a route many Appalachian thru hikers take to get to the Laughing Heart Hostel and you are also privileged to witness a spectacular aerial view of the town. It's off the beaten track, but well worth it to encounter one far-flung member of our tour, Gallery339. Just past the Hostel, Gallery339 is a new art gallery and creative space that offers classes, workshops, and art openings showcasing the talented artists of the area.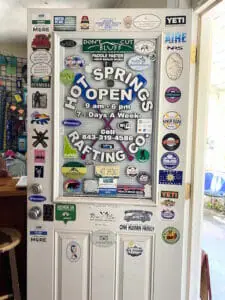 Hot Springs Rafting Co.
Make your way back down 25/70, past the Lion's Club, Hot Springs Medical Center, and an auto mechanic shop to get to the last two stops on our tour of Hot Springs, NC.
You should be on the left side of Bridge Street, facing town. Here you see the Hot Springs Rafting Co., your portal to adventures on the French Broad River. This is where you come to go on rafting and tubing adventures. You can also "get the T-shirt" to commemorate your adventure at the gift shop in the big white Victorian structure that houses the rafting company. Tours generally depart once an hour, weather and river conditions permitting. In the summer season, the lawn is a site for the other Hot Springs arts market.
Spring Creek Tavern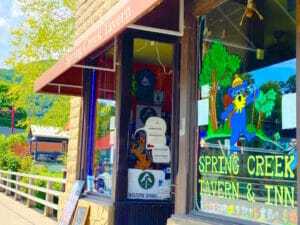 Keep going. Past the post office, across Spring Street, you arrive at our final destination on the tour, Spring Creek Tavern. Locals and out of towners commingle in this well-established hangout. Join the many who love to relax on the large covered porch that overlooks Spring Creek after their day's adventures. With a hip, friendly atmosphere, excellent pub fare, and a wide selection of brews, you cannot go wrong spending at least one Hot Springs evening here. So, grab another pint and finish your Hot Springs walking tour in style.
Article and Photos by Alicia Araya, August 2022