A submission written by Jim Hickey
Part One of this "A Ginseng Rhizome Nexus" series introduced Hot Springs as a location opportunistically proximate to a worldwide phenom, the herbal, pharmaceutical, and nutritional fascination with all manner of Panax growth. Indubitably, popular tendencies to find ginseng enthralling have persisted for thousands of years, wherever its growth took place and wherever expanding markets might send it. Its allure, in fact, has threatened to extinguish it, at least in its wilderness state.
Why ginseng should excite so much passion becomes obvious when one looks into likely benefits of imbibing a little 'sang' now and again. A love potion; an "anti-stupid concoction," upon which this author stumbled when he was having a particularly dull day in 1986; a revitalizing supplement; so myriad are 'sang's' charms that its innumerable suitors make perfect sense. Local knowledge, as in Western North Carolina generally and our little welcoming center of community generally, extols and develops all of these salubrious applications.
To illustrate this, one need only travel twenty minutes from Hot Springs, to Marshall, Madison County's seat of government, where Robert Eidus, "the king of ginseng," produces herbal marvels, including various Quinquefolius products, at Eagle Feather Organic Farms. He exemplifies this herb's potential when he leads workshops and tours, by appointment only, for those who want to learn more about this and other of Gaia's gifts and Elysian elixirs.
Watch this video to find out about Ginseng's ecology and ecosystem from Robert Eidus:
While a substantial majority of American output of Panax's panoply heads to Asia—such that one soon discovers almost a Hot Springs to Hong Kong pipeline—Eagle Feather formulations and formulas overwhelmingly reach their customers locally. Bluff Mountain Outfitters, for example, permits through-hikers in need of pick-me-ups to select ginseng offshoots; the same is true of Marshall's homegrown health food store, Madison Natural Foods.
Herbalists flower fulsomely amid such ripe landscapes as ours. Budding up from Blannahassett Island's Marshall studios, the Terra Sylva School of Botanical Medicine, via Janet Kent's masterful understanding, provides training and certification in plant-based naturopathic remedies, supplements, and emoluments to the human condition. The Welcome Center's capable administrator purveys popular and marvelous hand-creams that come largely from such floral sources as well.
In fact, dozens locally, at once the most native and the most recently transplanted folks, exhibit this capacity to tap into and provide relief for what ails us from just such materials as ginseng makes available in our forests. This plethora of grassroots awareness, of folk wisdom made manifest in the form of a gnarly yellow root that often has the shape of a toddler or a midget, erupts from our Hot Springs community as it does from all communities where humans have hope enough to look around them and to each other for sustenance and assistance.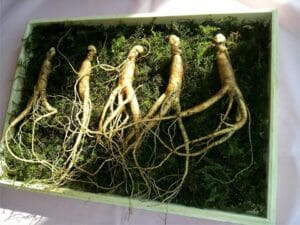 Altogether, this maze of ritual and knowledge, of lore and science, of business and sacred custom, would not be the expected outcome of what set out to be a 'simple' blogosphere offering about a common herbal supplement. Nevertheless, such intricacy and delicacy may be unavoidable. Nature's bounty inevitably touches us where we seek healing and wholeness; such sore places do not often result from simple causes, and they resist simplistic summations, even as many if not most of us at least now and again go in search of such materials in the wild. Here along the French Broad, in the shadow of Lover's Leap, if life teaches anything at all, it teaches that our environs provide havens for our healing.
In this way, both the hiker today and ancient gatherers, whose efforts were only supplemented by hunting, search for solace in Gaia's gardens. Their sojourns, antediluvian or au courant as the case may be, have touched people everywhere, even as such sanctuaries as Madison County's fertile rainforest have at different times receded or expanded as different natural cycles have unfolded.
Henry David Thoreau, in an 1853 journal entry, in palpable fashion stated a motto that applies to the woods and wilds of these Southern Appalachians that ensconce dear little Hot Springs. "All nature is doing her best each moment to make us well—she exists for no other end. Do not resist her. With the least inclination to be well we should not be sick."