The River Runs North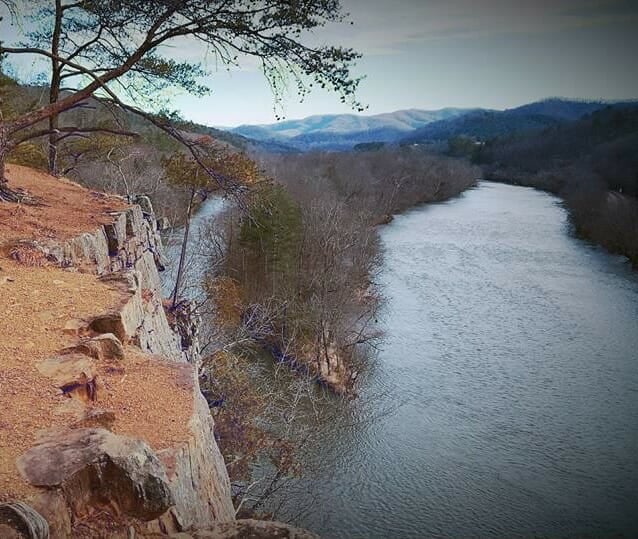 The headwaters of the French Broad River begin just west of the Eastern Continental Divide near Rosman, NC, about 60 miles south of Asheville near the South Carolina state line. One of several unique features of the river is that it flows north. The French Broad travels for about 100 miles from the headwaters to Hot Springs, passing through Brevard, Hendersonville, Asheville and Marshall, NC. About 6 miles downstream of Hot Springs, the river flows into Tennessee. Ultimately, the waters of the French Broad river end up in the Gulf of Mexico, via the Tennessee, the Ohio and the Mississippi rivers.
A Natural Pathway Through the Mountains
The river provides a natural pathway through the mountains. Following the river in the mid 1800's was a drover's road called the Buncombe Turnpike. The foot path allowed people to move animals and goods from the flatter lands in Tennessee through the Western NC Mountains, and out to the ports in South Carolina. Small communities along the river grew up to serve the drovers and eventually turned into larger towns. In the 1880's, the completion of the railroad meant the end of many of the small communities.
One of the Oldest Rivers in the World
Another uncommon fact about the French Broad River is that it is thought to be one of the oldest rivers in the world. There are river features just above Hot Springs that are of particular interest to geologists. The Cherokee called the river "Long Man," with the tributaries being called the "Chattering Children." Early settlers called the river the French Broad because it flowed into what was then French territory.
Just upstream from Hot Springs is the section of the river with the most rapids, providing excellent whitewater rafting and paddling. Many sections of the river offer enjoyable recreational activities.
The French Broad is a free-flowing river. The amount of water in the river varies with the season and the amount of local rainfall. The watershed covers approximately 2800 square miles. There are periodic floods, with the most devastating recorded flood being in 1916.
Abundance of Wildlife and Fish
There is plenty of wildlife in and around the river. The French Broad river watershed is home to many endangered species, including the Appalachian Elktoe Mussel and the Bog Turtle. Great Blue Herons, Canada Geese and Bald Eagles are some of the frequently seen birds.  Beavers and Deer abound, while River Otter and Bear sightings are more uncommon.
There are excellent trout streams that flow into the French broad, such as the Big Laurel near Hot Springs. Fish that are commonly caught in the French Broad include Catfish, Small Mouth Bass, and Muskie.