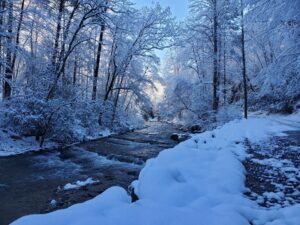 While spring and summer bring the hikers, paddlers, birders, and bikers through the winding roads into our river valley town, many pass over the opportunity to experience the adventures to enjoy in the stark beauty of winter. As a small town on the Appalachian Trail, a 2,190 mile scenic path running from Georgia to Maine and part of the greater Madison County area, which includes 55,000 acres of Pisgah National Forest, our small town is where you'll want to place your compass when you're feeling like you just need to get away from the hustle and bustle of the bigger cities. Here are a few suggestions for winter activities to enjoy while you're here in the colder months ahead.
Take a Bike Ride Up River Road to Murray Branch and Into Tennessee along Paint Creek
River Road is one of many treasured local roadways that runs along the French Broad River. In the winter, you can take to two-wheels and set out to visually soak in the open views along the rushing river without the tree canopy cover there from spring to fall. You decide your pace as you meander along this 7 mile stretch, which includes 3.5 miles of gravel alongside the river until it meets the breathtaking grandeur of the 20-30 foot rock cliff walls of Paint Rock. You can keep going from here onto Paint Creek Loop Trail and on a paved road that will carry you past icy waterfalls into Tennessee. When there's a light snow on the ground, this trail is absolutely breathtaking. Bill Downey of Madison County Outdoors catalogues this popular ride pretty well here.
Warm Up With a 4.2 Mile Hike Along Pump Gap Loop Trail to Lovers Leap
Our favorite way to keep cozy in Hot Springs year-round is with a nice long walk in the woods. One local favorite is the Pump Gap Loop Trail. It's easily accessible through town where you'll walk across the bridge down into the old Silvermine area where you're met with the option of hiking Lovers Leap and continuing on the Appalachian Trail or wandering up the windy and wet climb with Silver Mine Creek running alongside. You'll certainly want your insulated socks and muck boots for this but you won't regret getting a little messy as you take in the rushing creek and endless pine forests on this 4.2 mile loop up and over to the ridgeline overlooking the French Broad River. Find these trails and more on our hiking trails page!
Catch an Early Sunset on Max Patch and take in 360 Degree Views of the Mountains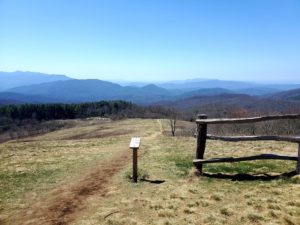 If you're familiar with Western North Carolina, you've likely heard of this infamous 350 acre bald mountain known as Max Patch. Its 360-degree views of the surrounding mountain peaks and valleys make it a coveted destination for all to easily enjoy the breathtaking beauty of this area– and it's quite the winter wonderland in the off-season. Just 18 miles from downtown Hot Springs, the drive itself is a scenic one to bundle up and take in as you wind Highway 209 on the path of "The Rattler" with clear views of the open valleys, onto Meadow Fork Road and up to the gravel lot where you'll begin your journey. The popular stretch of the Appalachian Trail known as Max Patch has received significant coverage in the last few years with visitors concerned for its health as it was littered with trash and suffering from years of mis-use. Significant efforts were ramped up by long-time local conservation group Carolina Mountain Club in partnership with the Appalachian Trail Conservancy to help protect and preserve this land and its habitat for many generations to come. If you plan to make the trip, you'll want a 4-wheel drive to ensure you're able to get there and back safely and many layers as the top of a mountain bald in the winter can get chilly. Read more about Max Patch!
Enjoy a Winter Soak in the Natural Hot Springs
Of course you can't make a trip to Hot Springs, N.C. without a soak in the natural springs at Hot Springs Resort & Spa. The 100+ degree mineral water was originally discovered by Native Americans, which is where the town received its name. Soon traders came and travelers began to make their way near and far to the healing mineral waters as they still do to this day. You can read more about the history of Hot Springs here. Naturally, there isn't a better time of year to warm yourself in a private tub filled with naturally hot mineral water than in the bitter cold of winter. A soak in these relaxing waters can help ease muscle stiffness and pain after a long week or a cold climb up the mountain. Learn more about the hot spring mineral baths and book your winter adventure hot tub time here.
Article by Tiffany Narron, December 2021