Elmer Hall of the Historic Sunnybank Inn 
Talks Life in the Time of COVID and How the Trail Led Him to Hot Springs
On a warm October afternoon, I walk up to the side porch of Hot Spring's oldest and most well-known home, The Sunnybank Inn. Having been closed all year following safety precautions in light of COVID,
the owner, Elmer Hall, greets me at the door with a face mask alongside his happy-go-lucky dog Carter. Together, they proceed to give me a tour through the 180-year-old historic home and hiker hostel, weaving back to Hall's earlier years as a teacher of Comparative Religions and vegetarian chef as well as a sabbatical that led him to a long-held desire to hike the Appalachian Trail. And this is how he discovered, or "fell in love with in a crazy kind of way," Hot Springs, NC.
When asked how this year of closure due to COVID has felt, he says, "Well it's cast me into an involuntary retirement." If you've met Elmer you know that he enjoys the inn bustling with energy, a dinner table and music room full of hikers and travelers, as it should be. While he had the company and support of two thru-hikers at the Inn through the spring and summer as he would in the regular hiker season, he made the decision to close the Inn when COVID hit in March and later a decision to remain closed through the end of the year. "So I wasn't alone, yet we normally have a few thousand hikers pass through every year for two-three days, and usually stay longer than they intend to because it's such a nice place. And they're usually enjoying having a warm bed and good vegetarian food, even the meat eaters," he laughs.
Infamous Vegetarian Meals from a Former Vegetarian Restaurant Owner
Hall's vegetarian meals are well-known, to hikers coming down the trail, and to many locals as well, and for good reason. Hall was a part owner, head chef, and manager of Somethyme, the first vegetarian restaurant in the state in his hometown of Durham for many years. He said he had long lived in houses with 8-10 roommates working together and became accustomed to making a large meal for everyone each week, which he found that he rather enjoyed. In fact, he decided to transition from his teaching career at Duke University to start his own restaurant alongside two talented female chefs and bakers. He was inspired as the restaurant grew, yet after several years cooking, managing and keeping the pace of the bustling little eatery, he found himself needing a change of pace and decided to take a six month break and follow a dream he'd had since he was 16– thru-hiking the Appalachian Trail.
"I started in Georgia around April and got to Hot Springs after about six weeks and was having a wonderful experience," he recalled. "It was totally different than running a busy restaurant 50-60 hours a week, just enjoying nature and the other hikers I was meeting from around the world. I got to Hot Springs toward the end of May in 1976 and it was quite a different town back then as you might imagine."
He goes on to share the quaint, quiet feel of only a few small shops, including the hardware, grocery and diner and how the town hadn't quite warmed up to the hikers coming off the trail during their visit. "A lot of people thought hikers were weird and didn't quite know what they were up to. They were strangers," he said. "So, there was only one place in town that you could stay and it was here at Sunnybank."
Hiking the Appalachian Trail and Discovering Hot Springs and the Sunnybank Inn
An Inn since the late 1800s, the Gentry family took over the boarding house for over half a century, housing many teachers of the Dorland Bell Institute, a Presbyterian School for Appalachian girls. Mrs. Jane Gentry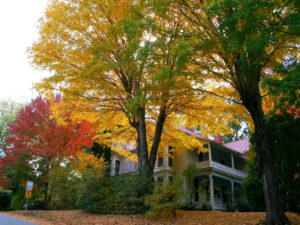 and daughter Maude Long were well known folklorists and musicians who taught music, shared mountain food, stories, and songs with travelers, students, and hikers passing through town. Hall says it was Maude Long who "decided that hikers were interesting people so she would let you stay here at a very reasonable price."
After bunking at the Inn for a few days during his hike, the Gentrys told him if he ever needed a job and felt like wandering back down the trail again, they would give him one helping run the Inn. "I thought, well if I ever decide to leave the big city of Durham, I'll move back up here at some point. The if was big. I had no idea what I was doing. But I left town with a really wonderful feeling of the place which hasn't changed much since." Hall finished his hike, skipping Pennsylvania, New York, and New Jersey, and making his way to hike Katahdin in Maine before finding his way back home to resume cooking and managing the restaurant. Hall said it wasn't long before he realized the trail had left an impression on him and he could no longer go on at the pace he had before.
"I liked the slowness, the quietness, and the beauty of being close to nature. Hot Springs is a small village, now sometimes a very busy village, but you can head off in 5-10 minutes of walking or biking and be right in the woods and it's still that way." He accepted Gentry's offer for the room and began helping to manage the Inn. A few months later, they announced their plans to retire and made an offer to Elmer to purchase the Inn, which he accepted.
The Time a Liquor Truck Turned Over on the Way to Tennessee
When asked what some of the wildest things he's experienced in his time in Hot Springs, he chuckles and thinks back to 15-20 years ago when a 16-wheeler was coming around the curvy mountain roads on Highway 25/70. He recounts that the truck was making its way down around the mountain and into Tennessee full of liquor for the ABC store. Just as it was coming across the bridge, the weight threw it down and over on its side where it broke open by the river near where the Nantahala Outdoor Center is today. "I'd say about half the bottles broke and the whole town smelled like an open bar, so when word came into town, people were going down there in droves to try and get a bottle of whiskey or bourbon. Around that time, Hot Springs was a dry town. You had to go to Tennessee or over to Asheville to have a drink. So half the town was out getting drunk off their free bottle and it sure smelled like it for a while after that truck spilled."
He goes on to share how a few years later a potato truck coming into town got stuck on the railroad tracks and was hit by a train, sending thousands of potatoes rolling into the ditches and rivers. "Everybody was going down with bags and buckets and getting all these big old Irish baking potatoes for free," he says laughing. "A lot of the potatoes went into the drains or this, that, and the other. Have you ever smelled a rotten potato? Well, it was summertime and the whole town reeked! It took three-four days to find all of these old potatoes and cart them off. So, not as fortuitous as the liquor accident, but a lot of people had potatoes for a while." Hall was no exception, making out with a bottle of bourbon and five pounds of potatoes himself.
Adjusting to Conditions as Best You Can
When asked if there were any words of wisdom he'd like to pass down the trail as we all continue to move through this challenging time, Hall says, "I think people just have to do what other generations have done, like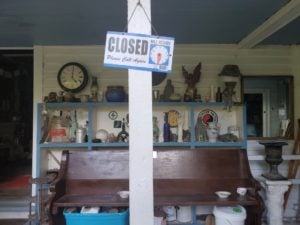 my parents who had to deal with the Great Recession and Depression and the families that lived through World War II when the whole country changed. You have to adjust to the existing conditions as best you can." He adds that patience and appreciating solitude, and focusing on relationships and time with family is important. "See this as an opportunity and a blessing rather than a curse as best you can."
Hall hopes to re-open Sunnybank Inn next year in a limited capacity. Check his website for further information at https://www.sunnybankretreatassociation.org/
Article written by Tiffany Narron, November 2020