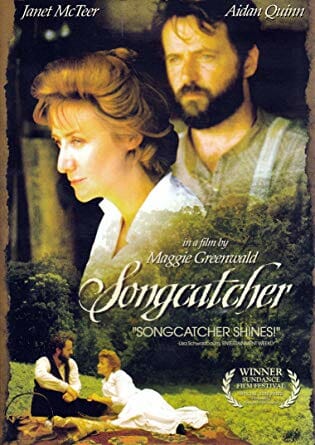 If we conducted polls of what movies have used Madison County as a film location, we'd probably hear Hunger Games mentioned most. While its celebration of independence would certainly appeal to both longstanding Hot Springs residents and newcomers, the story's futuristic science fiction plot-line doesn't highlight regular social realities here. For such reality orientation, we might watch Songcatcher, released in 2000 with a musical follow up from 2002, which looks backward rather than forward in time. The tale presents a saga of a strong woman musicologist along the lines of Olive Dame Campbell or Maud Karpales, Cecil Sharp's lead assistant, whose 1916 Madison County/Hot Springs explorations have made the area prime Blue-Ridge-Music-Trails territory.
Whether we focus on movie reviews' positive views, examining musicality, authentic natural beauty, or fine acting, or we look more closely at critical perspectives, that examine lack of cultural context, anachronisms, or glorification of outlanders, the film contains enough insightful veracity to help all and sundry Hot Springs travelers to explore options for their upcoming trek. This bit of a briefing showcases some of these.
Overwhelmingly, the most important element is the music to which the title refers, songs worthy of 'collecting.' Hot Springs' own mid-June Bluff Mountain Festival centers dueling 'song-catchers' who compete to prove who has the most extensive repertoire. Moreover, Jane Gentry's house still stands at 'Sunnybank,' where this venerable mountain-music grand-dame donated more lyrical interludes to Cecil Sharp and Maud Karpales than did anyone else in Madison County.
"'I were tellin' some mount'in stories," she described her own later endeavors. Jane's home today graces the register of historic structures as The Sunnybank Inn, where innkeeper Elmer Hall serves locally grown meals, the musical legacies of the region, and inbred botanical and cultural aspects of our hills landscapes and labors.
Individual County folk artists also embody the movie's themes. Among these are Sodom Laurel's Sheila Kay Adams, who still sings and celebrates local traditions, and Doug Wallin, of a legendary local family of folk performers and musicians, both of whom received NEA National Heritage Fellowships.
Joe Penland is another local light along these lines. A profile of him noted, "(t)hemes can be lighthearted or funny, but are frequently dark and violent, relating tales of love and loss, war, jealousy and revenge, … 'remind(ing) us of our past and that we're a nation of immigrants. …(who) came here looking for a better life, and the only things they had to bring with them from their culture were these songs.'"
Ongoing performance also marks local scenes, similarly as happens repeatedly in Songcatcher, where people belt out tunes readily and regularly. Iron Horse Station's Tuesday open mic in Hot Springs and Marshall's Zuma Coffee's Wednesday free-for-all and Thursday bluegrass gathering exemplify this ongoing songfest.
Other components of customary musicality include Cherokee contributions to bluegrass, the wildness both beautiful and dangerous everywhere in the hills, and invocations of the tolerance and live-and-let-live, minding-our-own-business mentality that continue to prevail in Appalachia. All of this and then some show up in Songcatcher, which thereby further recommends the film for close viewing prior to or during a Hot Springs sojourn.
Songcatcher echoes everywhere in town. Jeanne and Keith Gentry run an iconic old-timey hardware store that bears a primary 'song-catching' name. Music can break out anywhere here, from local hostel rooms, to Bluff Mountain Outfitters aisles, to French Broad campfires. Scenes from the film sprout from simple walks and extensive hikes up into the hills.
Mid-June's Bluff Mountain Festival, the Gentry's hardware store, the open-mic at Iron Horse Station, Zuma Coffee's regular Thursday night bluegrass performance in Marshall, Jane Gentry's repurposed Sunnybank home, among many other venues and events, reveal ways that even Hollywood confabulations can nicely, beautifully express our past in realistic and authentic fashion. Needless to say, these possibilities and more could add spice and spirit to a vacation or stay already packed with the sounds and scents and scenes of the upland marvels that are Hot Springs' signatures.
– Written by Jim Hickey