Hot Springs, One of Over 40 Appalachian Trail Towns
Hot Springs, North Carolina is one of over 40 trail towns recognized by the Appalachian Trail Conservancy that the 2,193 mile national scenic trail crosses through. While you're outside of the forested foot path that carries you from Georgia to Maine, there are mile markers embedded within our city streets and scenic views of the Appalachian Mountains surrounding you on all sides to remind you that while walking through town, you are in fact on the Appalachian Trail. Since the idea of the A.T. was born 100 years ago, there have been millions of hikers who have set off on the expedition to thru-hike the trail's full length, and millions more who have enjoyed an afternoon hike to soak in views from the summits of its many destination spots.
Maintaining and Protecting our Trails for Future Generations
During the ongoing threat of COVID, outdoor spaces received record visitation in 2020 as travelers sought safe spaces outside, and our small trail town was one of them. The popular summit along the Appalachian Trail at Max Patch drew travelers from across the United States, and with that came increased human impact and waste left along the trail. A photo taken at Max Patch in the fall of 2020 made national news, displaying one afternoon of high traffic trail use that left the popular bald mountain looking more like an afternoon music festival than a scenic rural cow pasture in the mountains of N.C. Luckily, two nonprofits have been long-time stewards of our trail space, helping to maintain, advocate, and protect our beloved historic scenic trail, the Appalachian Trail Conservancy and the Carolina Mountain Club. 
Over 25 Volunteer Trail Ambassadors Helping Educate and Protect Max Patch
One way the two have joined forces is in creating a Trail Ambassador program to help educate visitors on Leave No Trace principles, monitor use, and help grow and protect the native habitat on the bald for future generations.
"We've had various crews in place maintaining 94 miles of the Appalachian Trail for a long time, since before the Appalachian Trail itself was built. In fact, volunteers in the club helped build the trail back in the 1930s" shares Carolina Mountain Club Appalachian Trail Supervisor Paul Curtin. "Last year during COVID was the worst of both worlds because we really weren't allowed out there on the trail to help maintain it and yet more and more people were coming out with no indoor spaces to gather. That's why this big picture happened, yet we've known long before that snapshot that trail traffic and the human impact generated has been an issue." The Trail Ambassador team was added to the hundreds of Carolina Mountain Club crews that help maintain sections of the Appalachian Trail, Mountains to Sea, Art Loeb, and other Pisgah National Forest trails back in 2019. Trail Ambassadors help bridge the work of maintaining the trails while interacting with visitors to help provide educational information about the native habitat and how to help leave no impact while visiting. With the onset of the global pandemic in COVID, the work was put on hold and is resuming this year with 28 volunteer Trail Ambassadors now trained by the ATC and CMC to focus on Max Patch visitor education and trail monitoring and maintenance.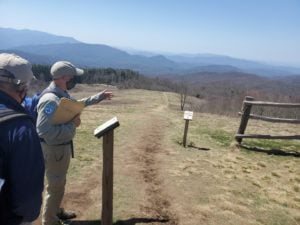 Practicing Leave No Trace Principles to Care for Our Public Land
"Everyone out here is out here for the same reason at the end of the day– to enjoy this beautiful view," shares Chloe Decamara, ATC Trail Education Specialist for the Southeast. "It's really how our ambassadors share that connection as people out here for the same reasons before attempting to help someone else understand what actions we as humans are making that are leading to habitat damage. I think people get really intimidated by Leave No Trace because of the seven principles, but they're not laws and it's really just common sense. We already know how to not leave an impact and how to leave an area better than we found it. It really boils down to packing out what you pack in." The Appalachian Trail Conservancy works to protect, manage, and advocate for the Appalachian Trail. Decamara helps bridge the trail maintenance work happening with the educational work of trail ambassadors, ensuring visitors understand the big picture of not only the work that goes into maintaining these spaces, yet how we all can and should be better stewards of our land. In 2019, Carolina Mountain Club put nearly 30,000 hours of volunteer time into trail maintenance in Western North Carolina with around 10,000 hours on the Appalachian Trail. With somewhere between 3 and 5 million people enjoying the A.T. every year, according to ATC Trail Facilities Manager Stephen Eren, and 80% of those people going out on Saturday and Sunday, "It's so important that we find ways to get out there alone during the week and help lessen that impact." Eren adds that "this year is the 100 year anniversary for the idea of the Appalachian Trail by U.S. Forest Service land-use planner Benton MacKaye, and that idea for why he wanted to create it is so relevant today– ensuring better mental health for humans through the regular access and use of outdoor space. And Trail Ambassador work is really just meeting folks outside to do exactly what much of our organization exists to do– encouraging and enabling locals to help take care of the trail, of our shared land."
Stay Connected
Learn more about the work of Carolina Mountain Club and find ways to get involved or donate to support these continued efforts.
Learn more about the Appalachian Trail Conservancy and their work maintaining, protecting, and educating around Appalachian Trail use.
Article by Tiffany Narron, May 2021