As information can change, please also contact businesses directly for hours and services to confirm.
Hot Springs, NC COVID-19 Policies, Practices and Business and Service Availability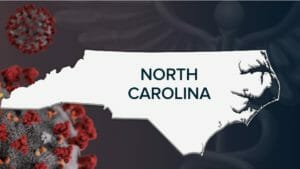 The state of NC has removed its indoor mask mandate, all mass gathering limits and social distancing requirements.  View Madison County Government Updates at www.madisoncountync.gov and State Government Updates at www.nc.gov/covid19.
Business owners may still choose to require face coverings and social distancing, so please respect their wishes if patronizing their store or restaurant.
The Hot Springs Welcome Center is Open Daily from 10-5.  Look for posts on the Facebook Page for Hot Springs Tourism & Welcome Center.
Hot Springs Resort & Spa is open for mineral soaks, massage treatments, camping and lodging.  Reservations are highly recommended.  Please call or see their website for details.  www.nchotsprings.com
Stores & Restaurants Open in the Hot Springs, NC Area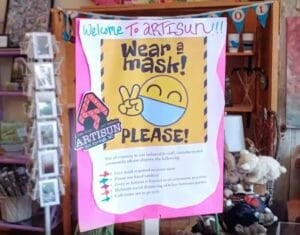 Artisun Gallery and Cafe – Coffee, ice cream, gifts and more with outdoor seating.  Open Daily from 8am to 8pm.  Look for more information on their Facebook Page.
Big Pillow Brewing – Local brewery and eatery serving food from Grey Eagle Taqueria.  Winter hours are Tuesday through Thursday 12-8, Friday and Saturday 12-9, Sunday 12-8.  Closed Monday.  Big Pillow Facebook Page
Bluff Mountain Outfitters – Open Monday – Saturday 9:30-5:30 and Sunday 10-5.  Check their Facebook Page for updates.
Gentry Hardware –  Hours are Monday, Tuesday, (Closed Weds), Thursday and Friday 8-5, Saturday 8-12, and Closed Sunday.  Check their Facebook Page for daily featured items and updates on hours.
Hillbilly Market – Open weekdays from 7am-6pm, Saturday 8-6 and Sunday 8-5.  Hillbilly Market Facebook Page
Iron Horse Station – Open for dine-in and carryout, hours are Thursday 11:30am – 9:00pm, Friday & Saturday 11:30am – 9:30pm and Sunday & Monday 11:30am – 9:00pm.  Closed on Tuesday and Wednesday.  The Iron Horse Station Facebook Page
Sara Jo's Station – Open daily, Monday through Saturday from 7am – 7pm, and Sunday 7am – 6pm.  Fuel up and stock up on craft beer, pot pies, homemade desserts, and assorted fresh and frozen foods and medicinals.  They post often on their Facebook Page.
Smokey Mountain Diner – Open for dine-in or take-out every day except Sunday.  Hours vary: Mon – Wed 6-2, Thurs & Fri 6-7 and Sat 7-7.  They offer a diverse menu and daily specials.  Daily specials on their Facebook Page.
Spring Creek Tavern – Open for dining Wednesday – Saturday from 11am – 9pm and Sunday 11am – 8pm.  Closed Monday and Tuesday. Announcements made on their Facebook Page.
Tobacco Road Burley & Brew – Open daily, winter hours are Sunday through Thursday from 10am-8pm and Friday and Saturday 10am-9pm.  Browse a fine selection of wine, craft beer, cider and tobacco products.  Tobacco Road Facebook Page
Vaste Riviere Provisions – Open daily from 11-7 with indoor and outdoor seating. They have a delicious variety of grab-n-go meals, fine wines and craft beer, quality meats and cheeses and general grocery items.  Vaste Riviere Facebook Page
Trust General Store & Cafe – Open daily with snacks, gifts, convenience items, groceries and fuel.  Store hours are Monday through Friday 8am-7pm, Saturday 10am-7pm, and Sunday 10am-5pm.  The Cafe is open from May 29 – Nov 7, 2021 and then closed for the winter.  Check their Facebook Page for latest updates on store hours and offerings.
Dollar General – They are open daily 8am to 10pm.