Hot Springs Art: Art galleries, studios and more in Hot Springs, NC
Hot Springs, NC, known for its thermal waters and hiking adventures, has also become an intriguing hub for a wide range of artistic expression. For generations, Madison County's inhabitants have expressed their creativity most famously through music. From the days when Cecil Sharp first came to the Gentry house to document long-lost English country ballads that still breathe, Madison County has stood out worldwide as a hub for ancient folk ballads that crossed the Atlantic and persisted here. In other creative disciplines, Madison County residents' skills, self-expression and craftsmanship have historically brought forth bold expressions of daily life in this mountain region via wood crafts, drawing, and painting.
New residents have descended on our town from diverse cultural, economic, and artistic backgrounds. Their influence has influenced us. Artistic offerings now run a wider range than in the past. Art lovers and collectors visiting Hot Springs can satisfy their appetite for intriguing, polished, and original work in a variety of media in various galleries, studios, and gift shops scattered throughout the area.
Now, let us set off on a virtual tour of "Hot Springs Has Art", our first but hopefully not last Art Crawl On October 15, 2022. This journey shall take the same general shape as the Hot Springs Walking Tour we took sometime in August.
Art Crawl Exhibits and Participants

Laurel River Store
Heading into town from Asheville you come to the first stop on the Art Crawl. Off the beaten path, it is easy to forget to stop by the Laurel River Store, as you turn left towards town. In addition to art, crafts, fishing, hiking supplies, and a comprehensive collection of maps and literature documenting the history of the region, the Laurel River Store has a well-stocked cafe with great espresso and baked good options. Jemima and Matt Cook revived this fine establishment in July 2012. The space has morphed to accommodate our community's evolving needs, which include retail space to sell our handiwork, but also, recently, selling the tools that we need to create it.
Big Pillow Brewing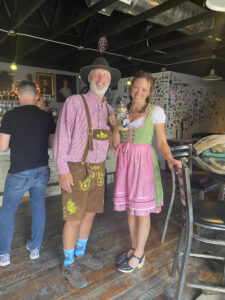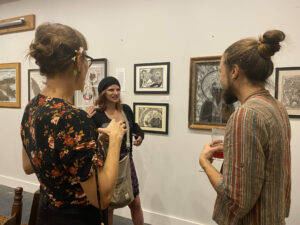 Big Pillow Brewing hosted some talented local artists. Lydia Nichole's arresting papercuts and linocuts were on display, in addition to work by Perry and Irene Olds, Julia Waters, Kelly Vaupel and a piece by Martha Skinner. Live music by the Sidewalkers and face painting rounded out the evening at this locale.
Artisun Gallery and Cafe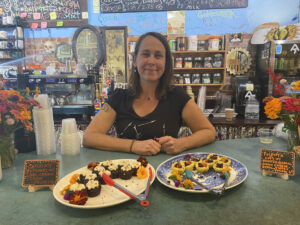 Artisun hosted an open house on that night, sharing wine, ice cream samples, cupcakes and polenta bites created by Wendy Stancil, Artisun's culinarily adventurous baker. This reception showcased the work of Selena Rose Mecho, Sean Crowe McKnight, Lynda Wheelock, and Brenda Underwood-Eckert, among others.
Vaste Riviere Provisions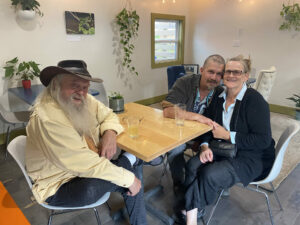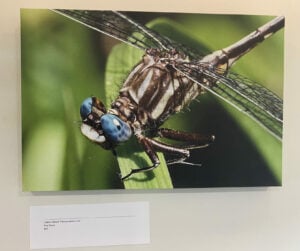 Vaste Riviere Provisions, a gourmet foods, wine, and craft brews establishment, showcased the astounding nature photography of Pete Dixon, capturing dragonflies in mid-flight, in his DragonFly photo series. Pete Dixon of Broadwing Farms has for many years captured the beauty of nature in these hills with his meticulous photographic closeups of local flora and fauna.
Pine Hall Exhibit
Multi-media artist Sue Gurnee and the Cuckoo Collective presented a fund-raising sale of wickedly humorous paintings to support the artists-in-residence program at the well-established Art Center in Hot Springs called Azule, A Place for The Arts & Community.
On South Spring Street, since 2021, Pine Hall and adjacent Chestnut Hall have offered a wide spectrum of performances such as world music live streams, author chats, and informative lectures by regional experts and authors co-sponsored with the Friends of the Hot Springs Library. Open to all, these two event Halls feature ever-changing free and at-the-door ticket required activities, movie events and performances.
This video shows Ike Lassiter, Chairman of the Friends of the Hot Springs Library organization, presenting the exhibit to visitors. Ike does an excellent job of explaining this show.

Bolesart Studio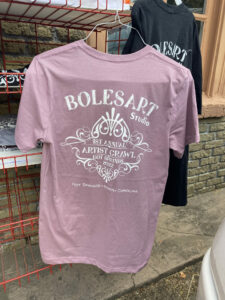 Brian Boles was a truck driver for many years, going up and down the Tennessee/North Carolina highways until a spiritual message told him to pursue art. True to his faith, he opened up Bolesart Studio on the intersection on 25/70, across from Sara Jo's Station, "on a wing and a prayer," as the saying goes. Mostly self-taught, Brian and his wife Priscilla welcome clients, patrons, and anybody interested in oil painting or screen printing to his studio. Bolesart Studio has hosted painting parties, portfolio reviews, and of course served as a place to sell his paintings and screen printed T-shirts for the past six years.
The art crawl provided Brian with an excellent chance to open his studio to the public at large, and he made T-Shirts commemorating Hot Springs' First Art Crawl. As he told Johnny Casey of the Asheville Citizen Times: "This will be my very first public event, so I'm super excited for the opportunity… I think it's time to step out a little farther on the limb and get more involved with the art community." 
We welcome Brian Boles and his artistic vision, which visitors to the region can enjoy in the form of the epic mural he graced Hot Springs' Smokey Mountain Diner with, documenting scenes of Appalachian Thru-Hikers wandering through the woods.
Gallery339
The last stop is Gallery 339, which was also the origin of the "Hot Springs Has Art" event. Terry Thirion has already hosted many workshops, art openings, and culturally enriching events at her gallery since September 2021, when she and Bob Fitzpatrick opened the converted gym next to the car mechanic shop in town into a haven for high art. Very much with the same spirit of faith and belief in her mission to help galvanize an arts movement in Hot Springs that impelled Brian Boles to open his successful studio.
Terry's gallery provided another delightful arts reception for her featured artists, with good food, drinks, and good cheer. In addition, live music and facepainting by KJ of Asheville enhanced the festive air. Featured artists were, among others, Judy Ott, Perry Olds, Martha Skinner, Lydia Nichole, Ray King, Elaine Lacy, JuIan Shen and Ralph Mellow.
Dreaming Up the Art Crawl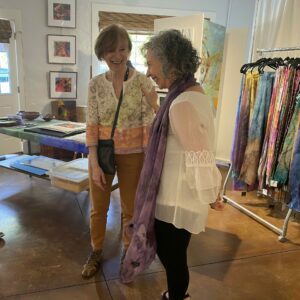 Terry raised local interest among the other galleries, studios, artists, and businesses in the area to open their doors one pleasant evening in mid-October for Hot Springs, NC's first art crawl. The Hot Springs, NC Has Art! Our First Studio & Gallery Crawl event was an inspired endeavor to assemble all our artistic activity into a cohesive evening. An evening that would allow visitors to experience the artists and the spaces in which they create.
Though the events described here took place one October evening, visitors can replicate the experience of seeing all the lovely things these places have to offer any day of the year. Local bands with strong local followings, classical music recitals, internationally attended livestreams, multiple art openings, spontaneous jam sessions, poetry readings, and much more take place in these venues. Visiting these galleries, restaurants and studios anytime of year will feed your creative spirit, guaranteed.
Artistic expression is important for the health of a community and as a reflection of the beauty that makes this area a tourist attraction to begin with. In an area so blessed with natural beauty, and the intersection of people from so many walks of life, it's inevitable that our town would one day hatch a happening art scene.
"The art scene in Hot Springs? it's emerging, very slowly, but it is not a focused art scene." says Terry Thirion. "Artists are all around, but they work individually, they stick to themselves or a small interest group, such as weavers, potters, woodworkers and painters. Bringing them together on occasion will be a wonderful thing."
On her end, Jemima Cook of the Laurel River Store is doing her part to cultivate the viability of the arts scene here by stocking high quality art supplies. "I've been slowly adding bit by bit, but dream of making it a broader serving resource for folks." says Jemima, who began to stock paints, paper, and woodworking kits slowly over the years, after noticing how often hikers, rafters, and visitors want to incorporate expressing creatively into their experience of this magical place we call home. "Many people who go on the Laurel River Trail then want to go sketch the waters as part of their experience here, and we love catering to that."
Article and Photos by Alicia Araya, November 2022