Woodson Branch Nature School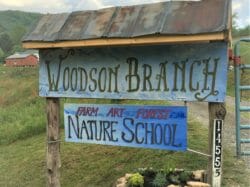 Woodson Branch Nature School is an independent nature-based farm, art, and forest school offering preschool child care and education for K-8th grades.
Located about 7 miles from downtown Hot Springs, this school has access to an abundant 30 acres in rural Madison County, complete with rolling hills, a well-established blueberry orchard, apple trees, pasture, many indoor classrooms, an 1800 sq. ft. 2-story tobacco barn, plus 20 acres of pristine forest with trails, three creeks, and multiple waterfalls that serve as the property border to the National Forest.
For More Info, Email [email protected]