Laughing Heart Hostel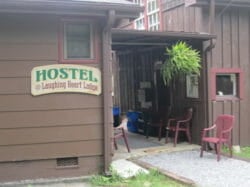 The Hostel at Laughing Heart Lodge is located at the Appalachian Trail trailhead at the southern end of Hot Springs, NC.  Providing clean, comfortable, affordable lodging.  It is the first building of any kind that hikers encounter as they hike north into Hot Springs. The hostel is just minutes from downtown Hot Springs and you can walk to it on the Appalachian Trail which in town is the main street. We are one of the top hostels on the A.T.
The hostel was built in 1974 to accommodate AT hikers and provides 8 rooms and bunk room(s) for groups coming for retreats or camps.  It has a small kitchen with a refrigerator, hot plate, coffee and tea, toaster and microwave, Wi-Fi and a DVD for movies. There are 3 bathrooms with showers that all the rooms share. There is laundry service available for a fee.  Work for stay is sometimes available.  You will find the hostel to be well maintained, nicely furnished and clean.
Rates are as follows, and subject to change: Bunk: $30/night, Twin Bed Private Room: $40/night, Full Bed Private Room: $55/night, Camping: $15/night, Laundry: $5/ load, includes wash, dry and detergent, Showers for non-guests: $5
Send Message to listing owner
Listing Title: Laughing Heart Hostel