Dorland-Bell Lodge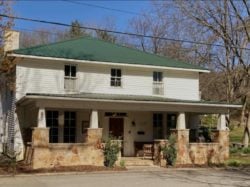 The Dorland-Bell Lodge is an ideal place for family reunions, retreats, wedding parties, groups of friends, and work teams, especially in the Fall and Spring.  Located one block off the Appalachian Trail passing through Hot Springs, it is a 5-10 minute walk from restaurants, shopping, and the hot tubs at the Spa. 
Six bedrooms including three queen beds, one double bed, and four single beds sleep up to 12 total, and there are three full bathrooms.  The large living room has a monitor for Internet viewing via your computer and DVD/VHS viewing with a selection of movies to watch and family games to play, making this a wonderful gathering spot.  A washer and dryer, a kitchen disposal, a dishwasher, a yard with room to play, an outdoor fire pit, and a Shack with outdoor grill and tables for hanging out are available for your convenience.  There are window air conditioners in the living room and dining room and floor and ceiling fans in the bedrooms.  Heat is provided by propane wall heaters in the dining room (which connects to the kitchen) and in the living room and electric space heaters in the bedrooms (all upstairs) and bathrooms.  Additional details will be sent upon inquiry.

Rent is $350 per night with 2 night minimum plus $150 cleaning fee (plus $50 for each pet) and a refundable $150 damage deposit.
Reserve at www.airbnb.com/rooms/49335684
Send Message to listing owner
Listing Title: Dorland-Bell Lodge