Hot Springs Library's amazing livestream fundraiser adapts to COVID curve ball
Hot Springs Library is a cornerstone of our community. The Friends of Hot Springs Library, along with grassroots supporters and community partners like the Appalachian Trail Conservancy, Madison County Tourism Development Authority, and Hot Springs Tourism Association, have worked hard in recent years to secure a permanent home for our library. One of our most successful annual fundraisers is BBQ for Books, usually an outdoor BBQ and party with live entertainment, homemade food and tasty local beverages.
And then 2020 happened. We knew we could not hold our traditional BBQ for Books party because of Covid precautions. But, we are in the homestretch of a 5 year note that FHSL took on to pay for our permanent library home. We didn't want to lose momentum.
"What started as an idea for an online local talent show became one of the most satisfying livestream music events we could have imagined."
With the contributions of many talented Friends, an event filled with local live and pre-recorded music along with information about local restaurants, businesses, and the Town of Hot Springs left us with a snapshot of a time and place to be remembered.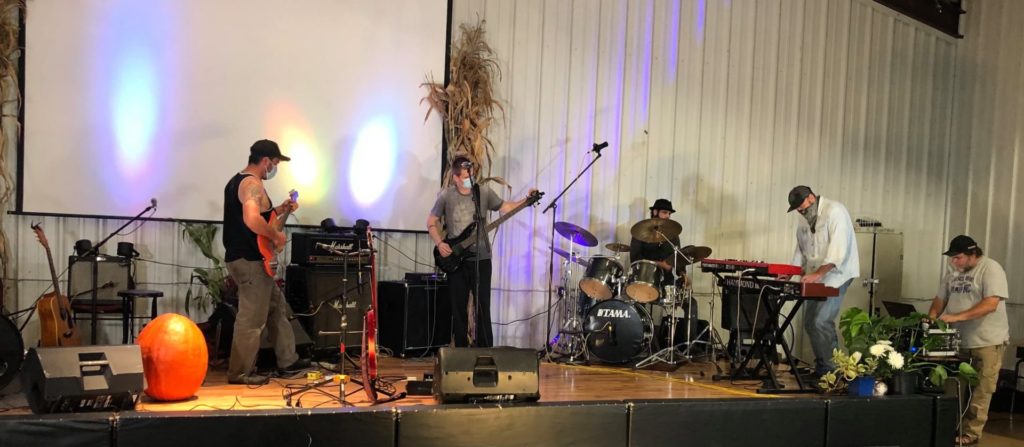 Our neighbors at the Laurel Community Center offered us a location for our event in October with space enough for social distancing. Starting in July, a core group of FHSL members met weekly to organize the details. It turns out, there are a lot of talented folks in Hot Springs. Within our core group we had a broadcast producer, professional musicians and entertainers, and an IT specialist. What started as a homespun talent show started to shape up as a bonafide entertainment event!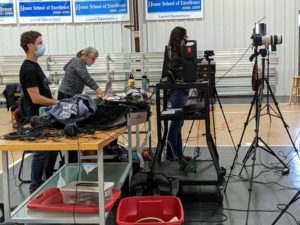 Throughout the summer we were able to gather an incredible variety of pre-recorded music for our event, along with interviews about the Hot Springs Library and our goals toward buying the library building. On October 10th, about 20 of us showed up at the Laurel Community Center with an impressive array of sound, lighting, and camera equipment. We had our local experts – sound technicians, IT Specialists, our broadcast producer, and our incredible emcee, Meghan Engel, on hand to seamlessly weave both pre-recorded and live content. Our livestream event went better than we thought it could. We raised $14,000 for our beloved library and we're on track to retire the loan in 2021.
Article Written by Mary and Pete Dixon