Scroll down for information about shops, dining and activities.
As information can change, please also contact businesses directly for hours and services to confirm.
Hot Springs, NC COVID-19 Policies, Practices and Business and Service Availability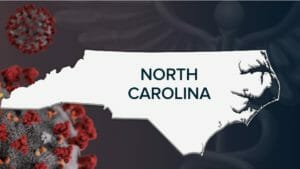 Hot Springs, NC complies with the 'Safer At Home' Phase 3 for NC, which will be active through Friday, December 4th.  Face Coverings are Required in Public Spaces where physical distancing of 6 feet from other people who are not members of the same household or residence is not possible.  Social distancing, sanitizing hands and wearing a face covering are important precautions for the safety of our residents and visitors.
The Hot Springs Welcome Center is Open Daily from 10-5.  Look for posts on the Facebook Page for Hot Springs Tourism & Welcome Center.
Hot Springs Resort & Spa is closed temporarily until November 11th.  After that, they will be open for mineral soaks with limited hours and availability.  No Walk-In Appointments!  The Spa building will remain closed for retail sales.  No massage appointments until further notice.  Lodging is available in cabins and suites with a 2 night minimum.  Campsite reservations are limited to completely self-contained RVs as the bathroom facilities are closed.  Tent camping is delayed until further notice.

The Pisgah National Forest has lifted restrictions and reopened most trails, roads and recreations areas.  Read Forest Service Alerts for Pisgah National Forest.
Festivals – Bluff Mountain Music Festival, French Broad River Festival, Wild Goose Festival and the Independence Day Fireworks are all CANCELLED for 2020.
Stores & Restaurants Open during COVID-19 Pandemic in Hot Springs, NC Area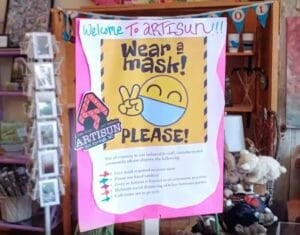 Artisun Gallery – Open with take-out cafe items and limited outdoor seating.  Open Monday through Thursday 8-4, Friday & Saturday 8-8, and Sunday 8-6.  Look for more information on their Facebook Page.
Bluff Mountain Outfitters – Open Monday – Thursday 9:30-5:30, Friday & Saturday from 9:30-6, and Sunday 10-4.  Check their Facebook Page for updates.
Gentry Hardware – Open inside now with limited capacity.  Hours are Monday through Friday 8-5, Saturday 8-3, and Closed Sunday.  Check their Facebook Page for daily featured items and updates on hours.
Iron Horse Station – Open for carryout and dine-in at 50% reduced capacity.  Temporary hours are Friday, Saturday, Sunday, Monday and Tuesday 11:30am – 9:00pm, closed on Wednesday and Thursday.  https://www.facebook.com/theironhorsestation/
Sara Jo's Station – Open daily, Sunday through Thursday from 7-7 and Friday and Saturday 7am-8pm.  Fuel up and stock up on craft beer, pot pies, homemade desserts, and assorted fresh and frozen foods and medicinals.  They post daily on their Facebook Page.
Smoky Mountain Diner – Open for dine-in or take-out every day except Sunday, with ample outdoor seating.  Hours vary: Mon 6-7, Tues 6-3, Wed 6-7, Thurs 6-3, Fri 6-7 and Sat 7-7.  They are offering a full menu and daily specials.  They post daily specials on their Facebook Page.
Spring Creek Tavern – Open for dining Wednesday – Sunday from 11 – 9 pm and closed Monday and Tuesday.  The Tavern has a reduced occupancy limit for dine-in and limited take-out availability.  Announcements made on their Facebook Page.
Tobacco Road – Open daily, Sunday through Thursday from 10-8 and Friday and Saturday 10-9.  Browse a fine selection of wine, craft beer, cider and tobacco products.  https://www.facebook.com/HSTobaccoRoad/
Trailside Bakery & Cafe – New eatery in the heart of town is now open Friday 11-9, Saturday 8am-9pm and Sunday 8am-6pm.  Comfortable and abundant outdoor seating.  Find their evolving menu offerings on their Facebook Page.
Vaste Riviere Provisions – Now Open daily from 11-7 with indoor and outdoor seating. They have a delicious variety of grab n go meals, fine wines and craft beer, quality meats and cheeses and general grocery items.  https://www.facebook.com/VasteRiviereProvisions/
Trust General Store & Cafe – Open daily with a cafe, gifts, convenience items, groceries and fuel.  Store hours are Monday through Saturday 8am-7pm and Sunday 10am-5pm.  The Cafe has a creative new menu and is open Tuesday through Friday 11:30am-7pm, Saturday 10am-7pm and Sunday 10am-3pm. Cafe Closed on Monday.  https://www.facebook.com/trustgeneralstoreandcafe/
Hillbilly Market – Open weekdays from 6am-7pm and weekends 8-7.   https://www.facebook.com/Hillbilly-Market-Deli-1336383353087870/
Dollar General – They are open daily 8am to 10pm.
View County Government Updates at www.madisoncountync.gov and State Government Updates at https://www.nc.gov/covid19.